Thursday, February 24th, 2022
Why Cincinnati homes need a water softener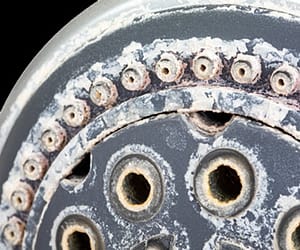 Cincinnati may be a beautiful city, but it's also one of many in the U.S. that has hard water. In fact, the average hardness of Cincinnati water is 10 grains of dissolved minerals per gallon. That's enough for the dissolved minerals in the city's water to be hard on skin, clothes and dishes, not to mention your home's plumbing. 
So, what can you do about it? First and foremost, you can invest in a home water softener that will eliminate calcium, magnesium and other minerals from your water. Doing so will mean you'll no longer have hard water spots on your drinking glasses, your skin and hair will look better, and you can rest easier knowing your pipes won't clog due to hard water deposits.  
Below, we explain the six biggest reasons to invest in a water softener. 
You'll save money
When it comes to plumbing, a water softener can save you money on costly repairs. That's because hard water can erode your home's pipes and clog them when the mineral deposits cause a buildup. A professional plumber will either need to clean the pipes or replace them. 
And since soft water dissolves soap better than hard water does, a soft water system will save you money on cleaning supplies.  
It pays to get a second opinion before committing to a plumbing repair 
Your appliances will last longer
Hard water can really take a toll on any appliance that uses water – from your washing machine to your dishwasher, coffeemaker to your water heater. Simply put, they don't work as well if your home's water is hard, and mineral build up can shorten their lifespan – sometimes significantly. A home water softener, on the other hand, can keep your appliances working their best for years. 
You will have healthier hair
You can skip buying expensive shampoo once you install a home water softener. Here's why: hard water contains minerals that make shampoo, conditioner, and other bath products unable to completely dissolve in water. That can lead to residue that ends up in your hair. With a water softener, your hair will be less frizzy, softer and shinier. 
If you color your hair, you may be able to skip a trip to the stylist, as you won't have to worry about hard water stripping away the color quickly. 
You will have softer skin, too
Hard water can be particularly harsh on skin, robbing it of its natural oils. This is why we especially recommend a water softener if you have dry, easily irritated skin.  With softer water, you'll notice quickly that your skin feels much softer, looks more radiant and is much less dry. 
When a plumber takes you to the cleaners: Five ways plumbers try to upsell you
Your clothes will look better
Hard water can leave clothes looking dingy and make stains very difficult to get rid of. In fact, the more you wash your clothes in hard water, the duller they're apt to get. And since soft water dissolves into clothes easily, you won't have to use as much detergent. In fact, you may not even have to use fabric softener at all. 
You'll have cleaner dishes
Do you see residue on your dishes – even after you wash them a couple of times? The culprit just may be hard water. With a soft water system, you won't have to worry about calcium and mineral deposits that can leave streaks on glasses and dishes. 
Additionally, minerals in hard water can scratch dishes, which can cause food to stick to them and make them harder to clean. With a soft water system, your dishes and glasses will last longer and look great, so you won't have to hold those special glasses up to the light and inspect them when guests come by unexpectedly. 
Not all water softeners are the same

 
At Allied Reddi-Rooter, we carry Novo water softeners that use 75% less salt and 64% less water compared to conventional clock models. They're perfect if you're looking for a water softener that is efficient, environmentally friendly and will save you money. 
There are many reasons to invest in a Novo water softener for your home. Call or contact  the team at Allied Reddi-Rooter to learn more. We always come highly recommended and have earned an A+ rating from the Better Business Bureau for our expert quality of service. We're here to help Cincinnati homeowners with all their plumbing needs.  You can follow us on Facebook, @Allied Reddi-Rooter for the latest tips or to ask us a question.
Read more
8 easy ways to elevate and update your plumbing in 2022
Your water shut-off valve – Your best friend in a water emergency