Wednesday, March 23rd, 2022
Sump pump 101 for Cincinnati homeowners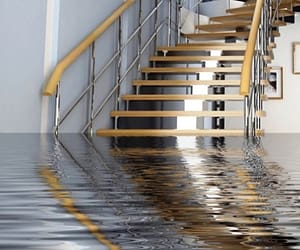 A wet basement floor is concerning, whether you've been living in your home for a longtime or just moved in. If you've started to notice puddles of water on your basement floor or in your crawlspace, it's important to act fast. If you don't, it could lead to mold issues or costly foundation problems. 
One of the first things you'll need to know is whether or not your basement has a sump pump, which is essential for removing water from the basement floor and funneling it through your drainage system. And while many basements in Cincinnati have a sump pump, some do not. 
The American Society of Home Inspectors reports that nearly 60% of homes in the U.S. have some moisture in their basement or crawl space. That's why it's important to understand what a sump pump does, what to look for when it's time to purchase one, and how to maintain your sump pump so it keeps your basement from flooding. 
Here at Allied Reddi-Rooter, we often get asked about sump pumps, so we decided to answer some of the most common questions about this important plumbing device below.   
What is a sump pump? Where is it located?
The sump pump is located in the basement floor or crawl space, and its job is to make sure that the space doesn't flood as water creeps in – usually after a heavy snowfall, a big rainstorm, or after a pipe bursts. Water will always pool in the lowest part of the house, so that's where the sump pump needs to be. 
How does a sump pump work?
As water begins creep into the basement and onto the floor, it will activate the sump pump to start working by drawing the water into it. Then, the pump will push the water into the dry well or the drainage system under the home. Once the water in the basement is cleared, the sump pump will turn off. If it did its job, you'll no longer have pooled water on the basement floor. 
Do I need a sump pump?
Yes. Many homes already have a sump pump, which serves as an integral part of the basement's drainage system. If yours does not, we encourage you to invest in one. Without one, water can (and often will) accumulate in the lowest part of your home, whether it's a crawlspace, a basement or the foundation. Without a sump pump, that water can settle. This leads to wood rot, mold, and even foundation problems. 
What do I look for when buying a sump pump?
First, you'll need to choose between a submersible pump and a pedestal pump. While pedestal pumps can be less expensive, they tend to have a higher failure rate than submersible pumps. With pedestal models, the float switch can get so inundated with water that it can become too heavy to lift. 
You'll also need to choose between a cast iron and a plastic sump pump. Obviously, a cast iron pump will last longer than one made from plastic, although plastic is more affordable. And mechanical switches tend to last longer than sump pumps with pressurized switches. Have a large basement that serves as a living space, too? If so, you may want to consider a back-up, second sump pump as well. 
Allied Reddi-Rooter carries sump pumps by Zoeller, known for their efficiency, durability and quality.   
How do I clean and maintain my sump pump? 
First, clean the screen gently with soap and water. Then, check to make sure that the power cord is connected and that the sump pump is receiving power. From there, test the float. If you pour water on it and works, you're good to go. If it doesn't turn on, give us a call. 
Once a year, do a deep cleaning by pulling the sump pump out of the ground and cleaning it entirely. You'll also want to clean the pit. Make sure to remove all dirt and debris that has accumulated over the year. 
How often should I clean my sump pump?
Great question! We recommend cleaning your sump pump at least every four months. This will help prevent any buildup of debris to keep your sump pump working at its best for years – if not decades – to come. Worried you'll forget? Fair enough. At the very least, you'll need to clean your sump pump at the beginning of spring before snow melts, and after a significant rainfall or storm. This will give you the chance to inspect the pump to make sure it is working properly. 
Need to have your sump pump inspected or repaired? Ready to install a sump pump in your basement? Whatever your sump pump needs are, we're here to help. We've been fitting Cincinnati homes with high-quality sump pumps by Zoeller for decades. We can also repair and replace your existing sump pump systems. Learn more on our Sump Pump website page.  If you've got a wet basement, don't delay. Call or contact  the team at Allied Reddi-Rooter to learn more. We always come highly recommended and have earned an A+ rating from the Better Business Bureau for our expert quality of service. We're here to help Cincinnati homeowners with all their plumbing needs. You can follow us on Facebook, @Allied Reddi-Rooter for the latest tips or to ask us a question.
Read more
Why Cincinnati homes need a water softener  
It pays to get a second opinion before committing to a plumbing repair