Saturday, June 4th, 2022
6 easy home plumbing updates that go the distance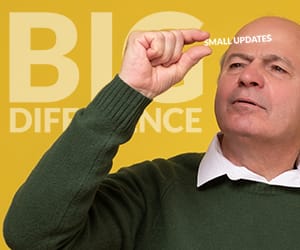 Looking to go a little greener, save money, and elevate the look of your home – all at the same time? If so, consider making small updates to your home's plumbing. Even little updates, like upgrading your bathroom faucets, can make a big difference – for everything from your water bill to your health. Many home plumbing updates are easy to do yourself, affordable (even if you're on a tight budget) and take very little time to complete.
Ready to update? Below are our top six home plumbing updates to make this summer.

Install high-tech faucets
Newer faucets not only look fabulous, but they use a lot less water. Did you know that older, traditional faucets can use up to 2.5 gallon of water per minute? High-tech faucets, however, can cut that usage by half. That means that with a newer faucet, you can save water while also giving your bathrooms and kitchen a fresh look. 
Buy a brand-new showerhead
Another easy plumbing update to make is to simply swap out your old showerhead for a new one. Modern showerheads feature all sorts of bells and whistles like LED lights, speakers, and plenty of water settings. And most use less water than older showerheads. It's also important to note that your old showerhead might harbor harmful bacteria, accumulated over years of use. That's another great reason to upgrade yours regularly. 
Install a digital leak detection system
Even a small leak in your pipe system can lead to an expensive and extensive repair. That's why it's important to monitor your home's pipes. Luckily now this is easier to do, thanks to digital leak detection systems that can spot leaks and alert you before they become major issues. We like Flo by Moen's innovative system that can send alerts to your phone. 
Choose a tankless water heater
There are many benefits to installing a tankless water heater in your home. Not only are they energy efficient but they are also extremely easy to maintain. And they're great for the planet, as they help conserve water. 
Get a water-saving toilet
Wondering what part of your home's plumbing uses the most water? Look no further than your toilets. Truth is, most traditional, older toilets require a lot of water to work properly. But that's changing, thanks to newer, eco-friendly models that use up to 60% less water than conventional toilets. 
We recommend investing in toilets with a duel-flush option that lets you choose how much water you need per flush. This, in turn, reduces the amount of water you'll use and will help you save on your water bill. 
Install a home water softener
Cincinnati has some of the hardest water in the country. Without a water softening system, homeowners in the Queen City run the risk of having drier skin and hair, dishes with stubborn spots, and even plumbing problems, due to mineral build-up. Allied Reddi-Rooter is proud to carry Novo water softeners that use 75% less salt and 64% less water compared to conventional clock models. They're perfect if you're looking for a water softener that is cost-effective, efficient and environmentally friendly.
Give us a call or contact  us for a quote. We always come highly recommended and have earned an A+ rating from the Better Business Bureau for our expert quality of service. We're here to help Cincinnati homeowners with all their plumbing needs.  You can follow us on Facebook, @Allied Reddi-Rooter for the latest tips or to ask questions.
Read more
9 plumbing tools every homeowner should have
Why isn't my bathtub holding water?