Tuesday, January 23rd, 2018
Winter Water – It's a Vicious Cycle. How is your sump pump holding up?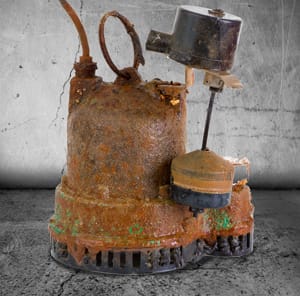 Freeze, Thaw, Rain, Snow, Leaky Basement, Repeat
Well, we're all in the soup this week – melting snow, swampy yards, and more rain/snow in the forecast. During the next few days and weeks, sump pump maintenance, repair and even replacement is crucial to keeping your home dry.
Below are a few tips
· Locate the Discharge Hose and Cleanout Cap – Look along the exterior wall for the point where the discharge hose exits your home's foundation. Keep the area clear of debris, especially if it's below grade. Freezes can happen quickly, causing burst pipes.
· Prevent Pump Motor Burn Out – Remove the discharge hose during your fall winterizing preparations. Water can freeze inside the hose, causing the pump to run continuously, which will shorten the pump's life considerably.

· Video Tip: Avoid Sump Discharge Hose Freeze Up – Sump pump hoses can freeze up, with disastrous results. This 5-minute video explains what to look for and how to unfreeze a frozen sump pump hose.
· Anti-Freeze is a No-No – Never use chemicals in the sump crock and anti-freeze in particular should be avoided at all costs. It's a tasty, deadly temptation for house pets and small children.
· Leave the pump plugged in, always. That's the best way to ensure the pump runs when it needs to.
Additional Pump Maintenance Tips

• Install a sewer backflow prevention valve if sewage backup may be a potential issue for you.
• Ensure all pump discharge water flows away from your home's foundation.
• Install a battery backup to keep your sump working in the event of a winter weather-related power failure.
Water You Waiting For? If you are having trouble with your sump pump or water in your basement, the experts at Allied Reddi-Rooter can either repair or replace your pump. Allied offers a 2-hour window of service – call now and they will arrive within 2 hours! Call or Contact us, today for a free estimate. 513-396-5300.  We always come highly recommended and have earned an A+ rating from the Better Business Bureau for our expert quality of service.