Friday, June 2nd, 2017
Window Well Water… Get Outta' Here!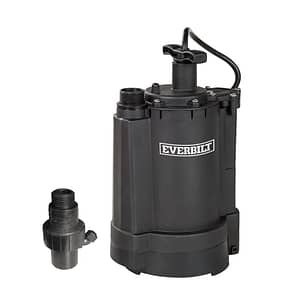 Q: The recent rains have left several wet spots in my yard and my window wells are holding water – I'm sure I saw mosquito larvae swimming in them. I don't need a sump pump, but I'd really like an easy way to drain the water from low areas. Any suggestions?
A: Standing water in your yard and window wells is a sure way to grow a bumper crop of mosquitoes. Mosquitoes are a health hazard. Plumbers detest health hazards. Ipso facto — a pump can really help you out. Our best tip is to invest in an good brand of utility pump (sometimes called a "transfer pump). These pumps are portable, less than 1 horse power, may be submersible, and they move water out of areas where you don't want it. Many can be connected to a garden hose so that you can direct the water to a better place (such as from a rain barrel to the garden or flower boxes). Zoeller and Everbilt are two reputable brands; Amazon.com has a good selection, fair pricing and they deliver.
Call today at (513) 396-5300, or Contact us to obtain a free quote on your plumbing project. From high pressure water jet cleanings to toilet, sink, or garbage disposal repair and installation, Ray's team is top-notch.  We always come highly recommended and have earned an A+ rating from the Better Business Bureau for our expert quality of service.