Friday, September 30th, 2016
Water Heater Savings: Put a Blanket on It!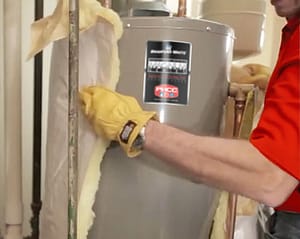 Don't use not just any blanket. Use only an official water heater insulating blanket.
My neighbor just bought an older home. During a tour of the utilities in her basement, I noticed that her water heater was covered in an official water heater blanket. It was thick, heavy, and well-designed. We're not fancy people at our house, but that water heater blanket looked pretty awesome and did a nice job of dressing up the tank. We're the tiniest bit envious of our neighbor's awesome water heater blanket situation.
What is a water heater blanket?
It is an insulated covering that's specifically designed to improve the energy efficiency of one's water heater. If your water heater is located in unfinished space (e.g., a garage, basement, or attic), a water heater blanket that's rated at R-11 or better, may help lower your energy bill. The blanket reduce excess heat from escaping the tank, making your hot water stay hot longer.
How much does it cost to run an electric hot water heater?
On average, a water heater runs three hours daily. An 50-gallon, 5,500-watt water heater with a .90 EF and an electricity rate of $.16 per kilowatt hour will cost about $780 to operate annually. By installing a water heater blanket, it's possible to reduce the amount of time the water heater runs each day.
How do I know if I need a water heater blanket?
According to Energy.gov, "if you have an older hot water tank, check to see if it has insulation with an R-value of at least 24. If not, consider insulating your water tank, which could reduce standby heat losses by 25%–45% and save you about 7%–16% in water heating costs—and should pay for itself in about a year. You can find pre-cut jackets or blankets available from around $20. If you don't know your water heater tank's R-value, touch it. A tank that is warm to the touch needs additional insulation."
Getting Started – Review Your Existing Tank
• Check your hot water heater for leaks. If it's leaking, consider installing a new tank along with the blanket.
• If you have an electric water heater (NOT gas), think about insulating underneath the tank to help prevent heat loss into the floor (potentially saving an additional 4%–9% of water heating energy)
• Measure your tank's height and circumference to determine the proper size blanket.
At the Big Box Hardware Store
• Locate the water heater blanket kit
• Purchase the size you need.
Back at Home
• Install the blanket according to the instructions on the kit.
Water You Waiting For? A water heater blanket is one way to save on your monthly energy bills. Installing a new, energy-efficient water heater is another. If your water heater is over 15 years old, it may be time for a new one. Call or Contact Ray today for a free quote: 513-396-5300.  We always come highly recommended and have earned an A+ rating from the Better Business Bureau for our expert quality of service.