Thursday, May 16th, 2019
The 7 best tools for DIY plumbing repair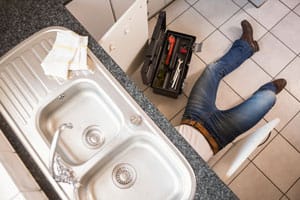 While we aren't the biggest fans of DIY when it comes to your home's plumbing, we understand the need to be prepared. Especially when you need a quick fix for something like a leaking faucet or broken shower head — at least until the professionals can fix the problem for good.  
If you want to do a little DIY plumbing, especially on simpler jobs like unclogging a drain or fixing a broken pipe, you're going to need the right tools. Here's a list of seven plumbing tools we recommend you have on hand. With these, you'll be ready when the time comes to roll up your sleeves and do a little plumbing. 
Plunger – You probably have a plunger, but if not, this should be the first tool you purchase for your home's plumbing needs. We recommend visiting your local hardware store for a decent plunger that fits the drains in your home. More than one plunger would be ideal, too. 
Keep the plunger in the bathroom or other room you'll use it for, so you can unclog drains quickly.  Hint: Adding petroleum jelly on the rim of the plunger will help it secure it to the surface so it works better.
Wrench(es) – That's right. You'll need more than one wrench for most plumbing jobs. Start with two basic pipe wrenches – one to do the turning and the other to stabilize. You'll also want to invest in a basin wrench, which has a clamp-style jaw that can grip and turn bolts and fasteners in hard-to-reach places. Lastly, you should have an adjustable wrench on hand that you can use for various plumbing jobs around the house. 
Putty – Often called "jointing compound" or "plumber's putty," it's used to create watertight seals and is very helpful to stop small leaks around your drains and faucets.  
Water pump pliers – These are also commonly called "tongue and groove pliers," and can be found at your local hardware store. Water pump pliers can be adjusted to grab larger parts and have long handles for loosening and tightening. 
Plumber's tape – If you've got a leaking threaded joint, you'll need to seal it with plumber's tape. After wrapping layers around dry threads you should be able to tighten back on the fixture, but this time with a secured seal. Plumber's tape is also called "Teflon tape," so look for that at the hardware store if you can't find plumber's tape. 
Auger – For more serious toilet and kitchen plumbing repairs, you could invest in an auger. A hand-cranked auger has a metal cable that can infiltrate your toilet drain to rid it of what's clogging it. Augers can also be used in all sorts of drains. If you have a home with older plumbing, we recommend investing in an auger. 
Hacksaw – Small hacksaws are great for cutting into hard to reach places that other tools can't access. These are also effective at cutting stubborn rusted nuts and bolts. 
Good luck on your DIY plumbing projects, and remember: nothing replaces professional plumbing services. We'll make sure your plumbing problem is fixed quickly and right the first time so it doesn't cause more problems in the future.   
Call or Contact the at Allied Reddi-Rooter, 513-396-5300.  We always come highly recommended and have earned an A+ rating from the Better Business Bureau for our expert quality of service.