Tuesday, February 4th, 2020
Plumbing emergency? Allied Reddi-Rooter puts the customer first 24/7.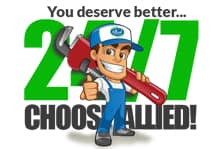 "Customers first." When we say this at Allied Reddi-Rooter, we really mean it. Commercial and home plumbing may be what we're passionate about and what we do best, but our top priority has always been making our customers happy by delivering top-notch professional service. 
That's why at Allied Reddi-Rooter, we offer 24/7 emergency plumbing and free 24/7 estimates on most jobs. We love talking about plumbing and will always give you frank advice and guidance about your home or business's plumbing needs. And we know that sometimes, you may need help afterhours, which is why we are committed to delivering the very best 24/7 emergency service. 
Not sure when to call an emergency plumber? We recommend always erring on the side of caution – it's always better to be safe than sorry. In the meantime, here is a list of five plumbing emergencies that should not be ignored. 
Frozen pipes. When winter rolls around, make sure you have the Allied Reddi-Rooter phone number handy in the event that your pipes freeze. Water in your pipes will expand when frozen, potentially causing leaks and bursts. If and when a burst happens, it can cause considerable damage to your home or business. 
An overflowing toilet. This one is serious for two major reasons. First, the water that pools on the floor from the toilet can cause significant damage to your floors. Second, toilet water can carry bacteria and viruses that can make you and your family sick. 
Broken water heater. Imagine getting ready for work on Monday morning to discover there's no hot water. When your water heater malfunctions or breaks, you'll want to take care of it ASAP. Usually, this involves calling a plumber who has the experience to assess the situation and the training to fix the problem correctly. 
You've got a backed up main water or sewer line. Is your yard full of wet spots? Or, have you noticed a foul smell in the house? If you notice either of these things, give us a call. A wet lawn can indicate a main water line break, and the bad smell may be the result of a backed up sewer line. Both problems require a professional plumber's knowledge and skill to repair.  
There's no water. This is a big one. Home and businesses need access to running water at all times. A plumber can pinpoint and fix the problem, which is sometimes caused by a backed up sewer line. 
Putting the customer first – day or night  
When in doubt about whether you have an emergency or not, give us a call. We're always ready to help our customers. That's why we're available 24/7 for plumbing issues and offer 24/7 phone quotes on most jobs as well. And we promise no add-on fees. 
In fact, to show our appreciation to our customers, Allied Reddi-Rooter is currently offering two general admission tickets to the Cincinnati Museum center with any completed project. It's a small way of saying "thank you" for making us one of the most trusted plumbing companies for homes and businesses in Cincinnati since 1950.  Call or Contact  the team at Allied Reddi-Rooter.  We always come highly recommended and have earned an A+ rating from the Better Business Bureau for our expert quality of service.