Tuesday, September 19th, 2017
Part III – This Old Kitchen – Mixing Vintage + Modern = Real Value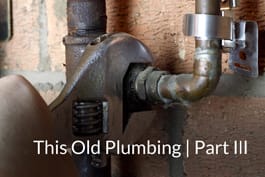 This is the third installment in our 3-part series entitled "This Old House has Charm but This Old Plumbing Stinks" that explores the old house plumbing in a modern world. 
Kitchens are the heart of every home; a cheery and well-functioning kitchen brings joy to all who enter.  For kitchens that are 15 or more years old, a makeover is money well-spent.
Below are a few thoughts on bringing a dated kitchen into the 21st century.
1) Add (or upgrade) a dishwasher – A recent report from dishwasher.com (June 2017) shows that less than 70% of American homes have a dishwasher.  Of those that do, "nearly 20 percent use their dishwasher less than once a week. That's despite proof that washing dishes by hand uses more water and energy than an automatic dishwasher."
2) Add an instant hot water dispenser – In a contemporary kitchen, gadgets rule.  Our favorite is the instant hot water dispenser.  Perfect for making tea, oatmeal and a host of other uses, having instant hot water gives one a real sense of privilege.
3) Add horsepower to your garbage disposal – In a busy kitchen, food waste can be a real challenge.  A good garbage disposal shreds the problem in seconds – literally.  Caveat:  Avoid wimpy disposals – a good one may cost more but is well worth the investment.  Look for a minimum of ¾ horsepower and upgrade to the full 1 horsepower option if it's in your budget.  A good disposal liquefies old chicken bones, peelings, dinner scraps and coffee grounds in seconds, keeping your garbage area clean and odor-free.  Tips:  Grease and stringy vegetables (e.g., celery) are not disposal or drain-friendly.  Always run an ample stream of cold water before, during, and after the disposal process.
4) Update the fixtures – Vintage kitchens love a fixture upgrade – from a new sink in steel or porcelain to a modern faucet, new fixtures really make a kitchen look appealing.  FaucetMag.com developed an easy-to read comparison of today's top 5 kitchen faucets. See table below:
5) Update the design – A kitchen design update is a rewarding home improvements.  Whether it's a fresh coat of paint or a complete design overhaul, updating a tired kitchen is a good investment and can add value to your home.   A sound kitchen design is well-organized (plenty of counter and cabinet space), functional (modern, energy and water-saving appliances), and user friendly.
6) Find a plumber that will work with your budget/design ideas – Good plumbing is more about "good quality"  than "brand new" – one way to upgrade on a budget is to "bring your own fixtures" to the project.  It's common for vintage plumbing fixtures to be re-purposed in modern homes, especially when the fixtures have been well cared for or lightly used. A reputable plumber will advise you on how to make this approach work for your project.
Water You Waiting For? The professionals at Allied Reddi-Rooter are top-notch at kitchen plumbing upgrades, installation and repair work.  For more information, call (513) 396-5300, or Contact us; visit our web site for more information and coupons http://alliedreddirooter.com/.  We always come highly recommended and have earned an A+ rating from the Better Business Bureau for our expert quality of service.