Monday, August 28th, 2017
Part I: This Old House's Unfinished Basement – A Laundry Room Strike Out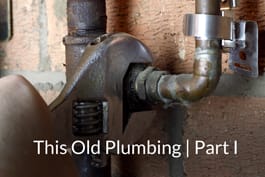 This is the first of a 3-part series entitled "This Old House has Charm but This Old Plumbing Stinks" that explores the struggles of old house plumbing.
Cincinnati's residential charm is a heritage of stately old brick homes that are the crown jewels in our Queen City. We have one — a 1920's English Tudor that we love…mostly. If you are in the market for a vintage home (or already have one), below are a few laundry area thoughts to keep in mind.
In a 21st century world, the unfinished basement-with-a-coal-room has a functional appeal of zilch. Our old house laundry area is not designed to handle the load and doing laundry is a vicious cycle (see what I did there?). If our laundry area were a baseball game, it would strike out on all fronts.
Strike 1: Double bay, 4-foot concrete laundry sink. Perfect for a wringer washer, not so much for a modern Maytag. The drain connections are not up to code, and the sink consumes the space needed to arrange our washer/dryer into side-by-side setup. That's correct – our antique plumbing prevents us from having a side-by-side washer dryer. Ugghhh.
· Foul #1: Electricity Shortfalls. Old houses are notorious for outdated wiring and few power outlets. Our old house basement has 4 walls, 8 outlets and knob-and-tube wiring. The lack of outlets and the wiring makes washer/dryer placement a real challenge. See Strike 2, below.
Strike 2: Clothes dryer hookups are an afterthought. Clothes dryers were invented in 1938, 12+ years after our house was built. As a result, the gas/electric dryer hookups are poorly positioned, at the bottom of the basement steps. Ipso facto, the dryer is poorly positioned, at the bottom of the steps. Talk about tight spaces.
· Foul #2: Old Pipes and leaky vent stacks. According to one home inspector, "Any plumbing from the '60s or older is on its last legs." In some cases, a whole-house re-piping may be needed to replace galvanized pipes, corroded and leaking copper vent stacks, and to address other old pipe issues.
· Foul #3: Rusted floor drains. In an older home, odors coming from basement drains are a sign that the trap has rusted away over the years, allowing sewer gas to escape into your basement.
Strike 3: Very old water heater, improperly vented. Our water heater is over 20 years old and the vent pipe runs up through a small chimney. Inside the chimney, the vent sweats and the moisture is absorbed by our brick, which then encourages some kind of crystalline growth on our brick.
So, What's the Game Plan for Improvements?
Although our laundry area looks bad in black and white, a few "almost DIY" improvements can be made for a relatively low cost:
The DIY Activities:
• Remove the concrete sink
• Fix the rusted drain with a "floor drain trap seal" kit (we did this and it's an awesome DIY repair)
• Buy a new water heater that vents directly outside
• Unhook the dryer (NOTE: turn off the gas valve) and move it next to the clothes washer
The Professional Activities (not DIY):
• Move the gas line/electrical connections to a better position
• Install/pressure test the water heater
• Connect the new gas line to the dryer
Water You Waiting For? The professionals at Allied Reddi-Rooter are available evaluate and advise on upgrading your old house plumbing. In cases where the upgrade is a large project, Ray and his team can help prioritize the upgrades to be easier on the wallet. For more information, call (513) 396-5300, or Contact us ; and visit our Deals page.  We always come highly recommended and have earned an A+ rating from the Better Business Bureau for our expert quality of service.