Thursday, September 3rd, 2020
Need a top Cincinnati plumber? Here are 10 qualities to look closely at…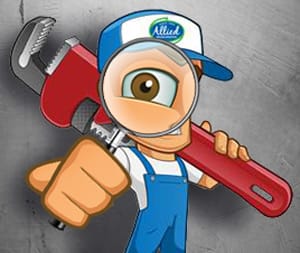 When you're in need of a plumber for your home or business, make sure you choose one with extensive experience and knowledge about all types of plumbing and issues. The best plumbing companies have the capability to perform any and all plumbing services. Basically, they know plumbing inside and out, which makes it easier for them to deliver quality work no matter how big or small the job at hand is.  
Here's our list of the top ten qualities to look for when choosing a plumber in Cincinnati. 
Decades of experience. At Allied Reddi-Rooter, our plumbers have more than fifteen years of experience helping home and business owners with their plumbing needs. In fact, Allied Reddi-Rooter has been operating here in the tri-state for more than 70 years. We've watched plumbing trends come and go and have literally decades experience troubleshooting and fixing a wide array of plumbing issues.   
An emphasis on education. Your plumbing technician should be highly trained, able to pinpoint your plumbing problem quickly and fix it right the first time. Because the field of plumbing is constantly evolving, plumbers should always be honing their skills. The best plumbing companies give their employees the tools they need to keep learning.  
Truly "full service." It's one thing to say you're a full-service company, and it's another to really be one. Look at plumbing company websites to learn what services they offer. As we mentioned above, if they service all industries and homes, and offer a wide variety of services, they are likely to be an established plumbing company you can trust. 
Emergency service. We offer emergency service within two hours from the time we first talk to you. Be very wary of plumbers who make you wait when you think you have an emergency. The very worst plumbers wait because, if the problem persists and does further damage, the more work they'll have to do and the higher the bill. 
Instant phone estimates. The best plumbing companies are fair, honest, and ready to help. They should offer free estimates over the phone and deliver free on-site estimates as well.  
They're friendly. Never estimate the power of kindness and courtesy. Our plumbing technicians make friendly service a top priority. The best plumbers care about their customers and are committed to complete professionalism on the job. We work with our customers, listen to their needs, and communicate every step of the way.   
They have excellent reviews. Before you select a plumbing company, make sure you read online reviews carefully. Choose a plumber with a great reputation and many positive reviews on websites including Yelp, Facebook, and Google. 
Personalized service. Have you ever worked with a company that makes you talk to a different employee every time you reach out to them? That shouldn't happen with your plumbing company. At Allied Reddi-Rooter, we assign one technician to a job. That way, they can build a relationship with you for better personalized service. 
Responsive, 24/7 availability. Whatever your plumbing needs are, no matter what time of the day or night it is, you should be able to reach your plumbing company. Plumbing problems don't follow a 9-5 schedule. If your toilet clogs at 7 p.m. on a Saturday night before a big dinner party, for example, you're going to want to call a plumber who's quick to respond – whether it's by walking you through fixing it on your own, or by hopping in the truck for emergency service (just save us a slice of cake). 
Customized plans. Every plumbing problem is unique, which is why the best plumbers have flexible, customizable plans for every issue and every budget. While some plumbing jobs require only one visit, others – like grease trap pumping for restaurants – can be scheduled for ongoing routine maintenance. 
Great deals. Look for plumbing companies that not only stand by their work but offer discounts and other specials to make their services even more affordable.   
Need a plumber? If you're looking for friendly, knowledgeable plumbers with decades of experience contact Allied Reddi-Rooter. We know what it takes to deliver exceptional service and we've been doing it for 70 years. We always come highly recommended and have earned an A+ rating from the Better Business Bureau for our expert quality of service.  You can follow us on Facebook, @Allied Reddi-Rooter for the latest tips or to ask us a question.