Monday, April 11th, 2016
In a "FOG" about your Restaurant Grease Trap?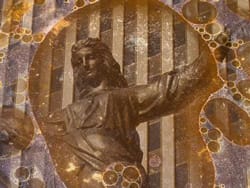 A recent walk through downtown Cincinnati from 4th Street to 13th Street was an eye-opener. The downtown restaurant scene is rapidly expanding. There are more restaurants in the 45202 zip code than ever before. For plumbers, that means one thing: Grease trap calls are gonna go sky-high! For those new to the restaurant business, clean and well-maintained grease traps are one of the keys to a successful relationship with the city health department. Foodies, this blog's for you.
What's a Grease Trap?
The experts at FloHawks.com have a concise definition: grease traps…capture "fats, oils, or grease (FOG) before they can go down the drain and enter the public sewer line. [Without a grease trap], FOG can solidify and stick to the insides of pipes, trapping small pieces of food debris and other items. [Over time], this solid mass can…grow until it clogs the sewer lines and causes all kinds of destruction in the sewer system including sewage back up." Yuck.
Grease Traps: Required Equipment in the Greater Cincinnati/Dayton Area
In our region, city health codes require that all food prep sinks, floor drains, and other drains that collect grease be fitted with grease traps. The traps capture every solid and liquid that, well, goes down the drain. A well-maintained grease trap separate the waters from the FOG and prevents the greasy buildup in the municipal sewer line. It's a fairly scientific approach: The FOG rises to the top of the grease trap (like cream but much less tasty), solids sink to the bottom of the reservoir, and grey water flows out the sewer lines/main drain.
As time passes, the grease trap fills with accumulated FOG and food particles and a must be emptied. It's good practice to find a reputable plumber who can set your restaurant up with a regular grease trap maintenance schedule.
Do all commercial kitchens require a grease trap?
Basically, yes. And your restaurant's grease trap maintenance schedule may be affected by the type of food that is featured on your menu. For example, pizza/pasta restaurants have greater amounts of FOG than frozen yogurt shops and bakeries.
Pro Tip: Stop greasy and solid food waste before it goes down the drain by scraping food scraps into the trash can instead of the drain.
Water You Waiting For? Running a restaurant is time-consuming, especially for those whose passion lies with creating the food and not so much with handling food waste. The professionals at Allied Reddi-Rooter can work with you to set up a weekly, monthly or quarterly grease trap maintenance schedule that meets your kitchen needs. When you're up to your elbows in dishes and customers, the last thing you want is a clogged grease trap. And Allied will ensure that the grease waste is disposed of in an environmentally friendly and cost-effective manner. Call Ray today to learn more about our grease trap cleaning abilities and our $25 new customer discount. 513-396-5300.  We always come highly recommended and have earned an A+ rating from the Better Business Bureau for our expert quality of service.