Monday, September 17th, 2018
How to locate your home's underground sewer line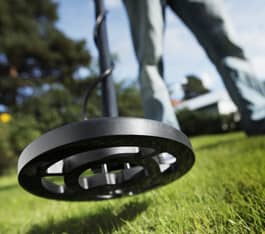 So, you need to know where your sewer line is located. Maybe you're ready for new construction work at your home or you need to locate the line for a repair.
While there are various ways to find out where your sewer line is located, some require a little more work and time than others. Regardless of how you find the line, the good news is that once you locate it, you'll always know where they are.
Make a visit to city hall
Your municipality very likely has maps with all of the sewer lines in the city or county. The best place to start is with your town's zoning office.
Ask the previous owner and your neighbors
If you have access to the former owner of your home, you may want to reach out and see if they know where the sewer line is located. Additionally, if you're considering buying a home, ask the seller where the sewer line is located or have the realtor relay the question or help you find out.  You could also ask your neighbors. If they know where their sewer lines are, it could give you a good clue about where yours are, too.
Find the Septic Tank
If you have a septic tank, that makes it a little easier because the sewer line that connects in your basement goes straight to the tank. You can use a stake to find the line underground. Typically, the line is buried 12 to 24 inches underground.
Contact a plumber
We recommend contacting a plumber for these next two options to finding your sewer lines. First, is when you're considering digging. Plumbers can look closely in your crawlspace or basement, locate the drain line, and follow that until it leads to the sewer line. This requires digging around the drain line. Without doing this properly, you could damage your foundation or plumbing, which is why we recommend using a professional plumber.
The second time to contact a plumber is to use small, flushable cameras that will show you the location of the drain line. Some plumbers, including Allied, use underground video snake technology paired with a metal detector to locate the sewer line through the ground.  Call or Contact the at Allied Reddi-Rooter, 513-396-5300.  We always come highly recommended and have earned an A+ rating from the Better Business Bureau for our expert quality of service.