Wednesday, June 21st, 2023
HELP!!! 5 things to do while waiting for an emergency plumber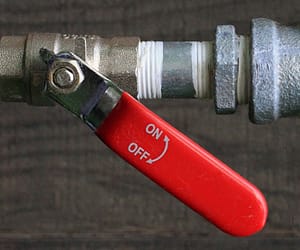 It can come as quite a shock to discover you've got a plumbing issue that needs immediate attention. Whatever your plumbing emergency is – whether it's a broken pipe, an overflowing toilet, or something else that needs immediate attention, you'll need to act fast. But what should you do before the plumber arrives?
Instead of waiting and worrying, we recommend performing some small tasks to help the emergency repair go smoothly. These simple steps just might help the plumber perform the needed repairs quicker. 
Here's what to do while you wait for the plumber. 
Turn off the water main to the home
Know where the water main turn-off valve is located. It stops all water from entering your home's plumbing. A simple turn stops the flow of water.
Drain water lines
Turn on all the faucets and let them run dry. This relieves all water pressure and will help if you have a leak that needs to be repaired.
This is critical if you have a broken pipe or if your toilet is overflowing. However, it's recommended that you turn off the water before the plumber arrives for any emergency repair. Doing this will reduce the amount of water you might be wasting, and help limit damage to your floors and walls, should you have a bad leak. 
Get rid of standing water
Grab a mop and bucket, towels, and a wet vacuum if you've got one, and start removing standing water from your floors, the tub, or anywhere else water has collected. Standing water can cause mold and mildew, and it also can be dangerous, if it's around any outlets or electrical appliances (more on this below). 
Move furniture
If water is creeping towards your furniture, move it quickly to a dry area or cover it with plastic or another waterproof material. You should also move any floor lamps, artwork, and all valuables to a dry area as well. 
Protect appliances
If possible, turn off your home's electricity. Or unplug electrical appliances. You'll need to have the appliances checked by an electrician before you use them again to make sure it's safe. And if water got near or in your home's fuse box, have an electrician check it as well.
Also, be prepared to provide important details including when the plumbing problem started and about any maintenance or other repairs that have already been made. It's also a good idea to take photos of the damage in case you plan on filing an insurance claim. 
Whether you take these steps or not, the team at Allied Reddi-Rooter is ready to help whenever you've got a plumbing emergency, 513-396-5300, or contact    us. We're here 24/7 for all your plumbing repair needs. We always come highly recommended and have earned an A+ rating from the Better Business Bureau for our expert quality of service.