Friday, December 31st, 2021
Have a gas furnace? Keeping it clean is the key to staying warm.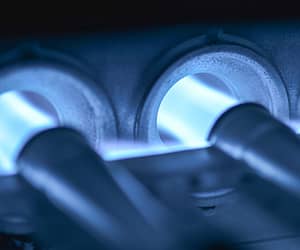 The last thing you want is a gas furnace that stops working in the middle of winter. Luckily, with a little time and very little effort, you can keep your gas furnace clean – and that will help it stay working its best all year long. 
Below are our easy tips on how to clean your gas furnace. 
Safety first
Because gas is so flammable, it's very important that you adhere to safety precautions before you check any gas appliances in your home. Make sure to turn your gas furnace off and flip the main circuit breaker if needed. And always vacate the home and call the gas and electric company immediately should you smell gas. 
Check the filter
Your gas furnace has an opening that looks like a slot. That's where your filter – which is usually a square or rectangular cardboard and mesh box – slides in and out. Pull it out and make sure it isn't covered in debris or discolored. If it is, you'll need to replace it. In fact, you should replace your filter once a month all year. You can find air filters in home improvement stores, and even in some Kroger stores. 
Check the blower
The blower is located inside your gas furnace and looks like a fan. Simply take a damp rag and wipe the blower down gently to remove any debris so that it doesn't get deeper inside the furnace. Do this once a month when you change the filter. 
Clean the vents
It's critical to keep the vents on your gas furnace clean and clear from build-up because trapped dust and debris can create heat build-up, and that's dangerous. You can clean the vents with a damp cloth, gentle soap and a brush, and even with a vacuum. 
Clean the air ducts
If you see pet dander, dirt and dust on your air vents, it's time to clean them. In fact, you should clean vents before they collect enough debris to see, because the cleaner your air ducts are the cleaner the air in your home will be. Simply brush the vents with a broom, clean them gently with a damp cloth, or vacuum them at least once every month. 
Take a look at the thermostat
It's important to make sure the temperature on your thermostat is the same as the actual temperature of the room. If it isn't, it means that the furnace isn't working or there's an issue with the wall unit. Usually, the latter is the issue. Luckily, this is a quick and inexpensive fix. Usually simply upgrading to an energy efficient thermostat will do the trick. 
Check the fan
Do not confuse your gas furnace's fan with the blower. The fan is deeper in the gas furnace and needs to be cleaned once a year. Going the DIY route in the case could damage your furnace and cause costly repairs. 
Time for gas furnace maintenance or suspect that your gas furnace needs more than just a little soap and water or a new filter? Call or contact  the team at Allied Reddi-Rooter. We'll make sure your home's plumbing is ready for the new year. And we promise to never upsell you. We always come highly recommended and have earned an A+ rating from the Better Business Bureau for our expert quality of service. We're Cincinnati's gas line experts. You can follow us on Facebook, @Allied Reddi-Rooter for the latest tips or to ask us a question.