Tuesday, June 26th, 2018
Don't Do-It-Yourself – 5 Plumbing Repairs to have done professionally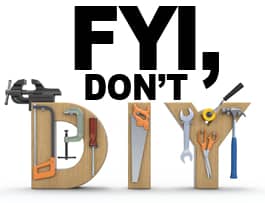 We know it can be very tempting to attempt to tackle your home's plumbing problems on your own, but in most cases, it's a job best let to professionals. Sure, do-it-yourself plumbing repair may save you a few bucks at first, but mistakes can be costly, especially if you do more damage to your plumbing than was there in the first place.
Instead of do-it-yourself, we suggest don't-do-it-yourself instead. When you have a plumbing problem, you're better off calling the team at Allied Reddi-Rooter. That way, you can be confident your plumbing will be in top shape, so you can focus on fun DIY home projects that won't break with bank with costly repairs if something goes wrong.
Still interested in going it alone when it comes to plumbing repair? If you must, then stick with simple, easy jobs. If you're considering tackling one of these five plumbing problems on your own, you should absolutely leave it to professionals.
Five Plumbing Problems to Never DIY 
Gas Line Repair – This one is at the top of the list for good reason. Gas leaks in your home can be very dangerous. If you're reading this because you're considering a repair for what you think is a gas leak, leave the premise (with your family and pets), go to a friend or neighbor's home, and contact us immediately.
We're trained to find the gas leak and fix it safely. And we will also check to find the source of the gas leak to make sure it doesn't happen again.
Frozen Pipes – Ideally, you're going to want to have your home's pipes inspected before the temperatures drop, especially if the plumbing in your home is older. But if winter rolls around and your pipes do freeze, attempting quick-fix on your own can be a bad idea. Why? Because the more the pipes freeze and thaw, the weaker they become, which makes them more susceptible to burst.
Pipe Rerouting – Never try to reroute pipes on your own. Your home's pipe system is complex, and just one small mistake made when changing your home's pipe routing can cause big problems. If you're adding a room to your home or doing a major home remodel that requires additional plumbing, call a professional. We can do the job efficiently and properly to avoid damage to your home's infrastructure.
Sewer Repair – We're not sure why you'd want to perform DIY sewer pipe repair, but if you're considering it, let us explain why it's a bad idea. Not only does sewer repair require expensive, special heavy tools, but it also requires a digging permit to ensure you don't damage underground sewer, gas and electricity lines that can put your family and your neighbors at risk.
Subterranean repair is best left to professionals. We can assess the best places to dig and repair and can maybe even find a solution that requires no digging at all.
New Water Heater – Never attempt to install an electric water heater on your own because its high-voltage can lead to serious injury if you make a mistake. Additionally, gas water heaters improperly installed can cause leaks.  Call us instead. We will make sure the heater is installed correctly to make sure you and your family stay safe. And we'll even recycle your old one.
Remember, it's always best to leave plumbing repairs to the professionals. Sit back, relax, and let us do the work. That way, you can be assured you and your family will stay safe, and you'll avoid any additional repairs.  Call or Contact the at Allied Reddi-Rooter, 513-396-5300.  We always come highly recommended and have earned an A+ rating from the Better Business Bureau for our expert quality of service.