Saturday, November 18th, 2023
Do I really need a master plumber?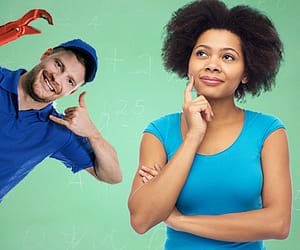 Don't be fooled when you hear that only a master plumber can help you with your plumbing problem. Unless you're a builder dealing with blueprints and code considerations, you don't. What you really need is a licensed, experienced plumber who can address your plumbing issues quickly and make the necessary repairs, maintenance, or upgrades efficiently.
In fact, in Ohio, plumbers must pass a rigorous exam to be licensed, but no additional or special requirements are needed to be named a master plumber. So, if the Cincinnati plumbing company you're considering says they have "master plumbers," that's not necessarily the case. At least not officially.
So, what should you look for when hiring a plumbing company in the Queen City?
Licenses and certifications
As we mentioned above, to be licensed in Ohio, a plumber must pass a difficult exam that tests their knowledge and ability to perform the tasks at a professional level. Plumbers must have five years of experience before being certified and licensed. Engineers with construction experience can take the exam after three years.
Experience
The plumber you hire should have years, if not decades, of experience. Allied Reddi-Rooter, for example, has served Cincinnati homes and businesses for 73 years. That's why we're one of the most trusted plumbing companies in the tri-state.
Even if the job you need tackled is smaller in scope – like replacing faucet fixtures, for example – it can lead to problems if you hire an inexperienced plumber or handyperson who doesn't understand the task at hand.
Reputation
We recommend hiring a plumber with many five-star reviews from home and business owners on Yelp, Facebook, and Google. Take your time reading the reviews to feel confident that you're making a great choice. Read the testimonials on their website and talk to neighbors and friends for recommendations. Avoid plumbing companies with several negative reviews or no reviews at all.
Insurance
Make sure your plumber carries the proper insurance with liability. Not only will this protect you if they damage your property while on the job, but it will give you peace of mind. Don't be afraid to ask if they're insured. And don't be afraid to choose a different plumber if they aren't.
Free estimates and advice
At Allied Reddi-Rooter, we love what we do and are always offer free estimates for our customers. We're also available 24/7 for plumbing emergencies and are committed to being timely and efficient. These are the qualities you should look for when choosing a plumber. They should work on your time – not theirs.
There's a reason Allied Reddi-Rooter has been Cincinnati's trusted plumbing company for more than 70 years. Don't think you have to choose a master plumber. Instead, choose an affordable, dedicated plumber with the qualifications to do the job right the first time.