Saturday, August 12th, 2017
DIY Plumbing Repair: The Right Tools Make Everything Easier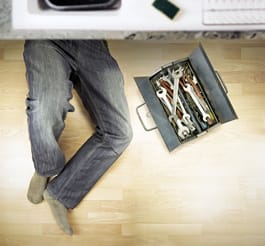 When it comes to fixing leaky faucets, leaky toilets, or general home plumbing repairs, the next best thing to having a plumber is having the right plumbing tools.
Below is our go-to list of essential tools for any home or small business toolkit.
1. Plunger – The icon of a plumber's trade, and found in bathrooms all over America. Plungers are available in two styles, "cup" and "phalange." Use the phalange style for toilet clogs – the elongated bottom creates a good seal in the toilet bowl and helps ensure a good vacuum during the plunging process. Use the "cup plunger" for use on flat surfaces, such as a basement floor drain area. It's good to keep both on hand.
2. Small Wire Snips/Cutter – Similar to pliers, a small wire snips are indispensable for cutting copper wire and zip ties. NOTE: Large snips, a.k.a., "tin snips", are also nice to have on hand, especially if you are tackling a large project that involved metal flashing.
3. Propane Torch – One of our favorite tools. Inexpensive and without equal for removing rusted bolts (on automobile license plates, swing sets, and practically everything in the garage), igniting gas grills, or sweating copper pipe for soldering. "Torch kits" that fit standard hand-held propane tanks are inexpensive and widely available at hardware stores.
4. Dremel tool/rotary tool (and the attachment kits and bits) – Ideal for making access holes in drywall, cutting bolts (when the propane torch just doesn't get the j-o-b done) trimming floor and wall tiles to fit around drains or fittings, sharpening tools, or grinding down rough edges, or just drilling holes, a rotary tool is an excellent multi-purpose choice.
5. Pipe Cutter (a.k.a. tubing cutter) – Similar to a C-clamp, tubing cutters are ideal for cutting copper or aluminum tubing (useful not only for plumbing, but also for making too-long drapery rods fit small openings. Cutters come in multiple sizes, we prefer the mini-sizes for household needs.
6. Vise-Grips (and other pliers) – A good, solid set of pliers is important when it comes to home repairs. We have two sets of Vise-Grips (one large, one small) — those chunky adjustable pliers that are able to be "locked on" to bolts, pipes, and other objects that require unyielding leverage during a repair job. Vise-Grips are used in conjunction with a second set of pliers or a wrench when superior traction is needed to remove stubborn bolts.
Highly recommended: Needle nose pliers with insulated grips. We would be at a complete loss without our needle nose pliers and Vise-Grips.
7. Accessories (Teflon tape/O-rings/pipe dope/plumbers putty) – Inexpensive, yet imperative to a successful, leak-free repair. A $10 investment will like procure all three of these items and will remain in your inventory for years.
8. Screw Drivers and Allen Wrenches – Many kitchen and bath fixtures are held together with Allen screws –small screws with a hexagonal opening. An Allen wrench set is similar to a Swiss Army knife – every size you need in one handy bundle
9. Pipe Wrench – Another iconic plumbing tool – this adjustable wrench is available in multiple sizes – the large, heavy sizes can be expensive and seldom fit in the toolbox. Note that that wrench teeth can quickly damage brass fittings or finishes on fixtures; use with care. Many an amateur plumber has "laid on the wrench" and ruined the fixture before they realized it. When it doubt, wrap the fixture or fitting with a thick soft towel and proceed with caution.
Water You Waiting For? If tackling plumbing repairs is low on your to-do list, Allied Reddi-Rooter is available 24/7, and we bring our own tools. Call Ray today for a free estimate: 513-396-5300, or Contact us. We always come highly recommended and have earned an A+ rating from the Better Business Bureau for our expert quality of service