Friday, April 28th, 2017
Buying a Home? Check the Pipes!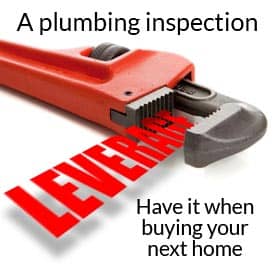 The Cincinnati home buying market is heating up for summer sales. If you think you've found your dream home, make sure your home inspector provides a robust plumbing inspection, including a video inspection of the main drain line. Plumbing in an older home can provide a multi-thousand-dollar negotiating point for buyers.
Below are a few points to keep in mind:
1. If you are considering buying a home where the prior purchaser has 'backed out' because of a failed home inspection, you may be able to purchase the home inspection for a discounted rate and use it to your advantage. It's common for first-time home buyers to be overwhelmed at that thought of a whole-house re-pipe. Don't be scared away; a good plumber can manage the re-pipe job for you for a few thousand dollars. If a homeowner has lost a sale over a re-pipe need, they may be willing to negotiate in your favor.
2. Is the sewage stack made of aging cast iron?
If so, a re-pipe will likely consist of removing the old cast iron and replacing it with modern piping materials (such as CPVC).
3. Obtain a video inspection of the tile from the house to the street.
Older pipes were typically made from clay, steel or tile – materials that are prone to crumble over time, especially in areas (such as Ohio) with cold winters and freezing/thawing activity in the ground. If the home you are eyeing was built before the 1980s, it is likely that the pipes are made of clay, and overdue for repair or replacement.
Additionally, if the home you are considering is in a neighborhood with mature trees, it's possible that the tile from the house to the street has been invaded by tree roots. When that happens, pipes can become cracked, clogged or prone to toilet paper blockages. Tree roots are a real headache for homeowners.
Lastly, if the home has a driveway drain, check the drain after a hard rain. If water puddles around the drain grate, it's highly likely the underground drain tile is broken and excavation may be needed to repair it.
4. Ask the realtor or homeowner about the frequency of toilet clogs or if a backup through the basement drain has ever occurred.
Frequent toilet clogs can either mean that a toilet replacement is needed or can be an indicator of a clogged main drain. Either reason can mean costly repairs to a new home buyer.
Water You Waiting For? Buying a home is an artful negotiation and plumbing is a strong negotiating point. An investment in a sewer video inspection is worth considering — the cost to repair or replace a sewer line can easily run $1500 or more, depending on whether excavation is needed. With an inspection, you can either achieve peace of mind about the condition of your pipes or you'll have a negotiating point (and a video) regarding upcoming necessary repairs. Call or Contact  Ray today for a free quote (513) 396-5300.  We always come highly recommended and have earned an A+ rating from the Better Business Bureau for our expert quality of service.