Saturday, November 18th, 2017
Black Friday – Time to Stock Up on Plumbing Parts!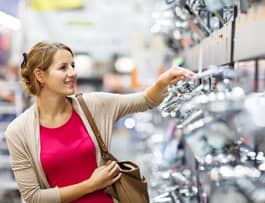 Everything will be on sale soon. Buy now! Install Later! It's out-of-the-box thinking, but one of the easiest ways to dress up your home or business for a holiday party is to do a little makeover on your bathroom, kitchen or bar area. With Black Friday sales coming up fast, a good deal on a new toilet, bathroom sink, instant hot water dispenser, garbage disposal, kitchen/bath faucet or ice maker can really improve your home life and impress your guests.
Allied has a "BYOP" Policy
At Allied Reddi-Rooter, you supply the parts, we supply the labor and professional installation. When our "Bring Your Own Parts (BYOP) policy is coupled with our "2-hour Arrival Policy," it's possible to take your Big-Box-Store deal home in the morning and have it installed by supper time.
Jump Start Your Home Improvements – Buy Now
Shopping the major retailers for a new vanity, kitchen sink, faucet, showerhead, lavatory or stool is an easy way to jump-start a home improvement project. Getting the materials is only half the battle – installation is where the dirty work begins. Iif you've ever begun a tub, toilet, or shower installation in an older building and unexpectedly found the trap rusted through… well, that's where a professional plumber comes in handy. Like the Boy Scouts, professional plumbers are always prepared.
Team-Allied understands – and fully supports — that many people enjoy the shopping, research and purchasing process but may be intimidated by the plumbing installation process. Our skilled plumbers have everything needed to safely, quickly and professionally install kitchen and bath materials purchased elsewhere. In most conditions, we can complete an installation that might take a home or business owner an entire weekend (or more) in just a few hours.
Water You Waiting For? If plumbing improvements are getting ahead of you, call us today and explain your situation. Estimates are free. 513-396-5300 or Contact us. We always come highly recommended and have earned an A+ rating from the Better Business Bureau for our expert quality of service.