Monday, October 24th, 2016
Allied Reddi-Rooter Is Hiring!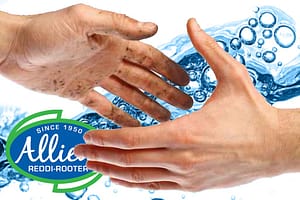 If you've got an interest in plumbing, you've got a friend in Allied. In the Greater Cincinnati Area, the shortage of people with hands for pipefitting, a head for math, and a problem-solving, people-friendly personality is real. It hits home. It's right here in our offices on Hunter Ave in Norwood.
If you believe in the adage that "the plumber protects the health of the nation," and enjoy the daily challenges in keeping household and small business plumbing systems in good working order, we invite you to consider a career with Allied Reddi-Rooter. It's a dirty, hands-on jo, but it's incredibly rewarding and you'll meet the most interesting people. Masterful customer service skills, a cheerful outlook, relationship building and, of course, analytical and hands-on engineering skills are required. A good understanding of math (including angles), hand tools, and piping strategies is a must.
Salary Scale – It Varies but It's Good
According to the Bureau of Labor Statistics, the 2013 median salary for a plumber was about $50,180. At the high-end, highly skilled and successful plumbers running their own shop can earn about $86,120; entry level positions earn about $29,590 annually. Plumbing is a career that still uses the apprentice model; apprentices typically earn about half the wages of a fully trained plumber.
How Do I Become A Plumber?
Time, patience, trade school course work, study and hands-on training are the formula for becoming a skilled plumber. US News & World Report notes that "Traditionally, a hopeful plumber begins a four- or five-year apprenticeship program to receive technical education and complete the required hours of on-the-job training under a licensed professional. Plumbers who have successfully completed their apprenticeship are known as journeymen."
Typically, an apprentice plumber undergoes about 250 hours of course work, math, applied physics and chemistry. About 2,000 hours of paid, practical training alongside an experienced plumber is also required. Last but not least, safety training is crucial in this field because injuries are common in this line of work (plumbing is considered to be part of the construction industry). To work independently, one or more licenses are required.
Water You Waiting For? A career as a plumber is a noble one. And, once you become a plumber, you'll never have to call one again (think of the savings!). If you are interested in working with an A-team of skilled, professional plumbers, talk with Ray today. 513-396-5300.
Call or Contact  the team at Allied Reddi-Rooter.
We always come highly recommended and have earned an A+ rating from the Better Business Bureau for our expert quality of service.