Wednesday, April 11th, 2018
6 things to look for in a Cincinnati plumber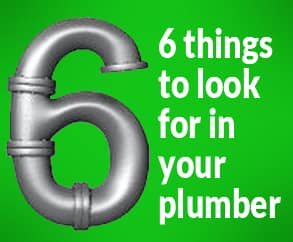 So, you've got a leaky toilet or are taking cold showers. The first thing most homeowners do is head to the internet or tattered old phone book. That can be a mistake if you need help fast. Every plumber can have someone there fast, but with what fees attached for that speedy arrival, and with what possible discounts missed in your haste to get the repair done? Take a few moments to read the following list of things that can save you time, money and headaches on your next plumbing repair.
1. Does the plumber offer over-the-phone quotes?
You should be able to get an "estimated" cost by phone before a technician comes to your home. For 90% of home plumbing repairs, the plumber has performed this work countless times and has a price structure for it. If they want to come out to assess what it will cost to stop a toilet from running, look further for your plumber.
2. Does the plumber offer free in-home estimates?
Not every repair can be quoted with confidence over the phone. Even some small repairs can require a more in-depth analysis to give an estimate. Some plumbers charge to come out to your home to inspect the issue. Some do not charge. Be sure to ask if in-home estimates are a free service.
3. Does the plumber charge extra for nights, weekends and holiday work?
Again, some do charge overtime for traditional off-hours and some don't. Some additionally charge for mileage. It pays to ask.
4. Does the plumber charge a Service Call Fee?
This one irks this plumber. We view service call fees for the most part as a way for plumbers to pad their profit. Allied looks at it this way… We consider our company fortunate that a customer has chosen us over other plumbers. Plus the customer has confirmed that they are hiring us because our fee is reasonable to them. Billing an extra fee just for us to show up is insulting in our opinion.
Some plumbers still use this add-on fee for every customer and advertise it as if their $59 fee is an advantage over another plumber's $69 fee. Some plumbers have chosen to drop this old practice. Always ask how the plumber's service call fee is applied.
Note: When a plumber's fee is approved, the work is scheduled, and the tech has arrived, if access to the repair is not provided, or the customer has a change of heart and declines the agreed service for any reason, then a service call fee is in always applicable.
5. Does the plumber offer free advice
Some plumbers utilize separate call centers to field calls. You may be referred to someone else in a callback to get answers to your questions with this business model, or get no answer at all. That's not a good option when water is overflowing. Other plumbers (like Allied) have a team in the office during regular business hours that are there to initiate your call, provide phone estimates and timely advice. They can help you work through simple fixes or stopgaps to stabilize the situation.
6. Does the plumber offer added incentive deals?
It's a great feeling when the price quoted is a good one. It's an even better feeling when you discover the incentives page that lowers that price even more. Some plumbers offer incentives. Some don't. Always ask if you don't see them in the plumber's advertising. Use those coupons and realize the savings.
Allied Reddi-Rooter believes that the six items above are core to providing excellent Cincinnati plumbing repair service and value. You can expect to receive all six attributes with every service that we offer.  Give the team at Allied Reddi-Rooter a call or Contact us. We always come highly recommended and have earned an A+ rating from the Better Business Bureau for our expert quality of service.