Wednesday, March 4th, 2020
6 easy ways to keep your bathroom clean + healthy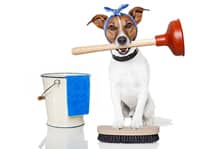 If you're like most people, you probably think cleaning the bathroom is about as exciting and fun as say, going to the dentist. But the fact is that home bathrooms can be one of the most germ-laden places in the house if they aren't cleaned daily. 
To keep you and your loved ones healthy, we've come up with six quick and easy things to do every day to keep your bathroom free from the germs that can make you sick. 
Make it clutter free. It only takes about five minutes to clear the bathroom countertop and sink area of clutter. Make sure you have a clean, designated place for toothbrushes and toothpaste, makeup, hair accessories, and other items like cotton swabs and Q-Tips. 
You can find bathroom organizers at places including IKEA, Target, and The Container Store. With a good organization system in place, you'll also save time because you'll always know where to find exactly what you need. 
Wipe everything down with vinegar. A daily wipe down of a mixture that's one part white vinegar to two parts water can go a long way in killing germs. Take a moment to spray and wipe everything from the bathroom sink to the mirrors to the bathtub. Pro tip: You can use a toothbrush to reach into areas around the faucet and to remove any residue from grout. 
Clean the toilet. Every day. Use a toilet brush to clean the toilet daily. You can find decent concealed toilet brushes at IKEA and other home organization stores, and while you're at it, pick up some antibacterial wipes and have them on hand to wipe down the toilet seat daily, too (but remember not to flush them down the toilet unless they are biodegradable). 
Another thing to remember: it's actually best to keep the toilet seat down. When you keep the lid up, particles from within the toilet can get airborne and lessen the air quality in the bathroom. 
Clean the air vents. From insect waste to pet dander to hair and yes, dead skin, dust is all over bathroom. Make sure to wipe down any air ducts, vents and fans every day with a damp cloth. You'll also want to make sure to clean the exhaust fan, if you have one in your bathroom, to make sure it works as best as it can to keep mold and mildew at bay. 
Wipe down the floors. Good thing bathrooms are small, because it doesn't take time at all to keep the floors clean. In fact, you could sweep them over once a day with antibacterial wipes, use a Swiffer or a cloth with a vinegar solution to rid the floors of dirt, debris and any harmful bacteria or germs that could lead to illness. 
Remove the trash. Every night, make it a habit to empty the wastebaskets in the bathroom. Germs lurk in the bathroom trash bin where items like face wipes, old toothbrushes, used dental floss, and everything else you can't flush down the toilet get tossed. We recommend a stainless steel trash receptacle with a lid that you can easily wipe down after things get thrown away and before you add a trash bin liner.
If you follow these tips, you're on your way to a more healthy, germ-free bathroom. Worried you'll forget a thing or two on the list? Why not add a check list near the bathroom mirror or light switch to keep you on track? It's easy to create a clean bathroom in no time. 
Call or Contact  the team at Allied Reddi-Rooter know.  We always come highly recommended and have earned an A+ rating from the Better Business Bureau for our expert quality of service.