Monday, January 29th, 2018
Winter's shifting ground is hard on buried water and sewage lines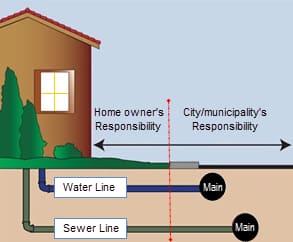 Freeze, thaw, repeat.  Uh-oh….no go.
The recent frigid weather really does a number on the underground water and sewer piping that runs from your home  to the city's connections at the street.  These freeze-thaw-refreeze cycles causes the ground to shift; such movements are hard for cast iron or clay tile pipes to handle.  As a result, many homeowners are finding that their service connections may have become compromised, creating disruptions in water service, leaks at the foundation level, or worse – sewage backups (either in the house or in the yard).
Water and Sewer Line Maintenance – Who's Responsible?
Nearly always, the property owner Is responsible for maintaining the water and sewer lines connecting the "premises" to the "city mains." This connection typically is near the point where the street meets the sidewalk or curb.
What Happens if I Don't Make the Repair?
Flooding (think about what's in THAT wet spot on the ground, eeewww), basement backups, and groundwater contamination, to name a few things. Additionally, property owners that fail to make repairs may be  in violation of local and state health codes.
Water and Sewer Line Repair: Well Worth the Cost whether it's your home, your apartment building, or your business, a fully functioning sanitation system provides good health to everyone involved.
Allied Reddi-Rooter offers sewer line installation, repair and replacement. We resolve many sewage/drainage issues including:
• Blocked pipes
• Cracked, broken or pipes that have shifted over time due to freezing, thawing or flooding conditions

• Rusted or corroded pipes that are restricting the sewer flow

• Tree roots (a common problem in our area, especially if there are weeping willows in your neighborhood
Water You Waiting For?
Allied offers traditional and state-of-the-art approaches to sewer line analysis and repair. From video camera examinations to high- pressure water jetting, our trained professional plumbers are skilled in the following areas:
• Water main trouble
• Lines in basements or under slabs/ driveways/lawns/streets

• Crawl spaces
• Historically sensitive homes/buildings
Give the team at Allied Reddi-Rooter a call or Contact us.  We always come highly recommended and have earned an A+ rating from the Better Business Bureau for our expert quality of service.