Tuesday, July 19th, 2022
Why is routine plumbing maintenance so important?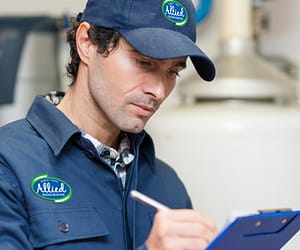 The team at Allied Reddi-Rooter gets asked this question a lot, and the answer is always the same: regular plumbing maintenance by a plumbing professional is critical for a variety of reasons – from helping you avoid costly plumbing repairs down the road to saving money on water and energy bills. 
While you may be able to detect plumbing issues on your own, a licensed plumbing professional has both the training and the tools in order to find problems quickly and address any issues before they get worse. Just like your car, your home's plumbing needs regularly scheduled maintenance, too. 
Still on the fence about scheduling a plumbing check up by a licensed plumber? Take a look at our top reasons to pencil one in for your home. 
Your plumbing will last longer
From your water heater to your faucets, your home is filled with fixtures and appliances that need to be maintained on a regular basis. Water heater tanks, for example, can corrode over time if not properly flushed, and rust can form in pipes that can lead to leaks and other issues. 
Enhanced water pressure
Ever wonder why your water pressure is too low, or even too high? When a plumber comes out for a maintenance visit, they will check your water pressure and make any adjustments so that it flows through your home's pipes the way it should. And if there's an underlying problem that led to the water pressure issue in the first place, they can address the problem and fix it. 
Detect leaks
Sometimes, water leaks are so small that you might not even know you have one. Often, these leaks appear in places like the base of the toilet or around faucet fixtures. If left unrepaired, however, these tiny leaks can lead to big problems. The good news is that plumbers are excellent at spotting small leaks and fixing them before they get any worse. 
Signs your home has a sewage backup 
No more slow drains
Not only are plumbers great at detecting leaks, but they are also trained to find blocked drains, even if they are partially clogged. During a maintenance visit, your plumber will test every drain in the house, often by using equipment to look deep inside drains to find any clogs or other problems that may be causing problems.
Better water quality
Corrosion in your pipes can lead to unwanted minerals and even chemicals in your water supply. In fact, leaks can also cause water patches, where bacteria like giardia and legionella can live. This is another big reason why it's important to prevent leaks in your home with routine maintenance. 
Why Cincinnati homes need a water softener
And better air quality, too
Faulty plumbing, including leaking pipes, can lead to mold growth in your home that, in turn, could cause health problems for you and your family. During a home plumbing checkup, a plumber can look for signs of mold growth throughout the house and help you take the necessary steps to eradicate it. 
Got mold in your bathroom? Here's how to find and prevent it 
Lower water and energy bills
If you leave leaks untreated in your home, you're throwing your money down the drain. Sure, you'll have to pay for the plumbing check up, but the cost pales in comparison to the money you'll save in the long run on water and energy bills. It will also protect you from spending money down the road on a costly plumbing repair.
Better ROI
Are you planning on selling your home in the near future? If so, give potential buyers confidence by having the plumbing inspected by a professional and make any repairs before it goes on the market.
Is it time to take a closer look at your home's plumbing? When you're ready to schedule your routine home plumbing maintenance, give the team at Allied Reddi-Rooter a call or contact  us for a quote. We always come highly recommended and have earned an A+ rating from the Better Business Bureau for our expert quality of service. We're here to help Cincinnati homeowners with all their plumbing needs.  You can follow us on Facebook, @Allied Reddi-Rooter for the latest tips or to ask questions.