Tuesday, May 20th, 2014
What's your number?
A few weeks ago, we mentioned our sticker shock upon receiving our quarterly water bill. Since then, we've added another person to our household: Mother (and her dog) are staying with us for a couple of months.
When we freaked out at our $300 bill, Mom commented (in her mother-in-law way) "$100 a month for water for a family of 6 isn't so bad. Other people pay more." But mom's not paying the bill. So, we've been doing a little home work on our water usage to figure out a way to save. A quick survey of our water usage found:
• Laundry: 15-20 loads per week.
• Dishwasher: 14 loads per week.
• Bathroom Flushes: About 100 per week.
• General water-running (brushing teeth, washing hands, drinking, cleaning, etc): Who knows?
On http://www.home-water-works.org/calculator, we found an interesting calculator designed to answer our question: After running water all day long, how much have we used? Our number: Over 360 gallons per day! That's a lot of water.
The site provides a series of charts and graphs, illustrating usage. A couple of examples from our home: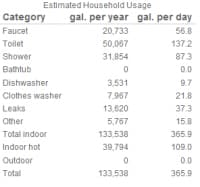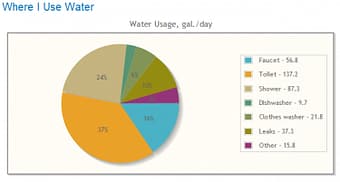 Next Steps
• A family meeting to impress the importance of water conservation within our home.
• Replacing the shower heads and faucets with conservation/low-flow water-saver models.
• Considering replacing our older toilets with WaterSense-certified water efficient models. This step is a little harder – a sturdy flush is pretty satisfying. But,
American Standard (one of our favorite brands) recently was named an EPA WaterSense partner. http://www.americanstandard-us.com/innovations/watersense/
Water You Waiting For? Find Your Number (and then, call ours)
Try the water calculator. It's fun and loaded with tips on ways to save water. If you'd like to learn more about replacing your old fixtures with new, efficient models (or if you'd like to re-arrange your plumbing pipes to accommodate new appliances) give us a call or contact  the team at Allied Reddi-Rooter for a free estimate.  We always come highly recommended and have earned an A+ rating from the Better Business Bureau for our expert quality of service. We're here to help Cincinnati homeowners with all their plumbing needs.