Thursday, August 19th, 2021
What a pain! The dishwasher won't drain – 6 fixes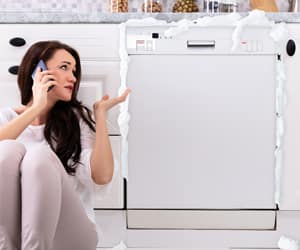 Have you ever gone to empty the dishwasher only to find it hasn't drained? If you have, you're not alone. It's a common, albeit frustrating, plumbing problem, but it's often an easy fix.  
Next time you find standing water in your dishwasher, don't get too flustered. Instead, take a look at our tips below on how to get to the source of the problem and fix the issue. 
Use the correct detergent
Let's clear this up first: only use dishwashing detergent in your dishwasher. It can be tempting to use something like laundry detergent or dish soap like Joy or Palmolive if you run out of dishwashing detergent, but please don't as it can cause problems. 
Another common issue arises when you simply pour dishwashing detergent in the wrong unit or directly onto the dishes. This will create plenty of suds (and quite possibly a mess) without getting your dishes clean. 
Run the garbage disposal
Once you've made sure that you haven't used the wrong type of soap, you're going to want to run the garbage disposal. Here's why: your dishwasher's drain hose connects and empties into the disposal drain. Often times, a poorly draining dishwasher is the result of a clogged garbage disposal. 
Once a disposal gets filled with food particles or other types of residue, it can all collect in the disposal pipe. Then, when the dishwasher needs to drain it can't because of the clog. 
Conserve water at home Cincinnati, save $$$ 
Check the air gap
If your dishwasher connects directly to your sink (which is typical in homes without a garbage disposal), you likely have a small, stainless-steel part called an air gap that sits right at the top of the sink near the faucet. If the hose that connects to the dishwasher gets filled with food remnants it can lead to a clog and your dishwasher won't drain properly.
To check the air gap simply unscrew it and make sure it isn't clogged. If it is, give it a good cleaning, reattach it and see if that did the trick. 
Take a closer look at the drain hose
You'll find the drain hose underneath your sink. Check it out and make sure there aren't any kinks – just as you would a garden hose. If you do spot a kink, you'll need to remove the clamps that hold the hose in place and run water through the hose until the kinks work themselves out. 
Take the motor for a test drive
To check the motor, just turn the dishwasher on and listen for any strange noises. If you hear a hum or a loud sound that doesn't stop, you may have an issue with the motor turning on but not powering up. If this is the case, you'll need a new motor. 
Drain standing water
If none of these tips seemed to work, it's time to drain the water yourself. Make sure to place towels under your dishwasher to avoid a mess and remove the bottom tray carefully so you don't spill the water. You could also scoop out the water with an old cup. Once all the water is out of the tray, we recommend running the dishwasher. If water collects again, it's time to call a professional plumber. 
Still having dishwasher drainage issues? Call or Contact  the team at Allied Reddi-Rooter. We can take a closer look at your dishwasher and fix the problem quickly, so your dishes sparkle once again.
We always come highly recommended and have earned an A+ rating from the Better Business Bureau for our expert quality of service. You can follow us on Facebook, @Allied Reddi-Rooter for the latest tips or to ask us a question.