Friday, February 19th, 2021
The best places in your home to add that much needed bathroom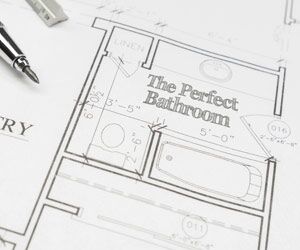 Sharing a bathroom can be tough, especially when there's more than two people living under one roof. If you've ever had to wait while the bathroom is occupied or shared a sink while getting ready for work, you've probably considered adding a second bathroom.
Besides convenience, adding an additional bathroom may just be a sound investment if you're looking to increase your home's value. In fact, houses with just one bathroom are known deal breakers for many home buyers.
So, if you've got a spare closet or bedroom or are willing to open a wall or get creative in the garage or basement, you may just want to get the ball in motion and make it happen.
Here's our list of the five best places in your home to add a bathroom:
The master or spare bedroom
If your master bedroom is large enough to warrant a wall, consider building in an additional bathroom. You could add sliding doors or opt for no wall and simply add a bathing area within the master bedroom itself.
If you go that route, we recommend choosing a bathtub that will elevate the look of the room. In fact, many homeowners choose to add a bathing space in the master bedroom if they're looking for a bigger, more luxurious bathtub or some jacuzzi time.
Another great option is to convert a small guest bedroom into a bathroom. Usually, this will give you enough space for a second full bath, which can really increase the value of your home.
A closet
One of the most practical areas to build an additional bathroom is in a closet, especially a walk-in closet that offers enough room for a bathtub and shower as well as a toilet and sink (essentially a "full bathroom").
You'll need at least 25 square feet to build a bathroom in a closet. That's enough for a half bath with a shower. The average cost for a closet to half bath conversion is about $3,500.
The hallway
If you have a hallway area that's long and offers space between rooms, you could nestle a bathroom there. You'll need to open a wall, however, so this option requires a little more labor than it would to turn most closets into a bathroom. Because of this, the average cost to add a bathroom in a hallway space is between $4,000 to $5,000.
One thing to note: You'll need to make sure there are outlets or at least the ability to add electricity and access the water supply before going forward with this addition. If you need to add wiring and piping this remodel can get pricey.
The garage
Since using the garage for additional living space is becoming quite popular, it's no surprise that it's also becoming a very popular place for another bathroom.
Ideally, your garage would be attached to your home and be large enough to fit two cars. Otherwise, you'll have to walk outside to use the bathroom – and a one car garage may be too small a space for much more than a toilet.
You'll need to make sure your garage can connect to a power and a water source. And you'll likely have to install a ventilation system to ensure the moisture from the bathroom doesn't create mold damage to the garage walls.
The basement
We kept this option last because, while adding a bathroom in the basement is popular amongst homeowners, it can also be one of the most expensive places for this addition. In fact, some basement bathroom build outs can cost about $10,000 or more.
The reason for the extra expense is due to the fact that, unless the basement walls are treated, moisture from a shower or bath can damage the walls enough that it will affect the structural integrity of the house.
You'll need to consult with a builder who has experience adding bathrooms in basements, and make sure there's appropriate ventilation should you decide to make it a full bath with a shower and tub.
Are you ready to get started? Call or Contact the plumbing experts of Allied Reddi-Rooter, at 513-396-5300. We always come highly recommended and have earned an A+ rating from the Better Business Bureau for our expert quality of service. You can follow us on Facebook, @Allied Reddi-Rooter for the latest tips or to ask us a question.