Tuesday, May 2nd, 2017
Simple Sanitation Tips for Kitchens, Baths & Basements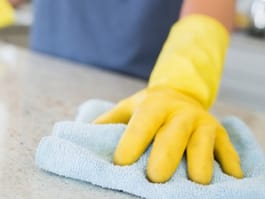 Busy households create big demands on sanitation. Below are our favorite "quick hits" for keeping sinks, drains, and toilets bright and fresh-smelling:
Kitchen Sinks
After doing the dishes (and before cooking a meal), scrub away "sink gunk" (the residue that sticks in the corners and under the faucet) with a few drops of dish soap on a sponge. Lather up the sides, then wash the suds down the drain with cold water.
Garbage disposal gaskets can be a source of sink odors. To clean, pop out the gasket, slather grease-removing dish soap onto the toothbrush and scrub away the greasy food waste that coats the gasket. If the odor is too much, hold the gasket under warm running water while scrubbing. We recommend cleaning the gasket weekly to prevent smelly build-up.
Floor Drains
If you notice sewer gas smells coming from your floor drains, "dry trap" could be the culprit. Pour 2-3 gallons of water into the floor drain to re-establish the water barrier between your home and the sewage lines.
If you notice chemical smells coming from your floor drains (which can happen in areas where city sewer lines are shared among businesses and residences), contact the Metropolitan Sewer District for assistance/advice. People have been known to pour caustic substances into floor drains, not realizing that odorous chemicals will seep into neighboring floor drains.
Bathroom Drains
Tub and lavatory (a.k.a. the bathroom sink) drains are notorious for becoming clogged with hair. An inexpensive "hair clog remover tool" (a long flexible wire with hook tape on the end) is a fantastic tool for clearing away drain hair. Yes, it's a nasty job. It's totally worth it, however, when the sink doesn't fill up while you are brushing your teeth.
Toilet Clogs
If your toilet has a "slow flush" (the kind where the toilet paper may or may not go where it should), a good plunging with a toilet plunger (rather than a sink plunger), should do the trick. If you notice that slow flushing is the norm rather than the exception, consider replacing your toilet – all toilets are not created equal with it comes to flushing power and design.
Water You Waiting For? The professionals at Allied Reddi-Rooter are on hand to serve all your plumbing needs. Call or Contact Ray today for a free quote or consultation. 513.396-5300.  We always come highly recommended and have earned an A+ rating from the Better Business Bureau for our expert quality of service.