Monday, August 1st, 2016
Sewer or main drain trouble? Videos get to the root of it.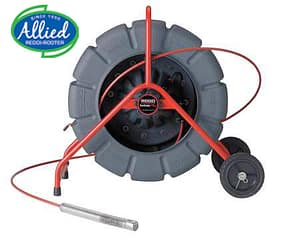 It's not a movie you'll want to make popcorn for, but it's an award-winning way to solve a stinky situation.
If you are experiencing sewage backups at the lowest level drains in your home or business, Allied Reddi-Rooter's drain camera can roll in the tightest spaces and identify blockage due to waste, foreign objects and tree roots. A video camera can also identify cracks in your tile or main drain line (typically from freeze-thaw action, excavation, old pipes or connections that have become loose over the years. Once the problem is identified, the professionals at Allied Reddi-Rooter can determine the best course of action to resolve the issue.
The Best Cincinnati Plumbers Use Video Cameras
At Allied Reddi-Rooter, our video equipment can search up to 400 feet of pipe, working within pipe diameters as small as 2 inches. To locate underground pipes, we use a transmitter that sends a signal from the camera head to an above-ground 'signal reader' tells the plumber where the line is, what direction it lies, and how deep the line is buried. In this way, we can determine exactly where your pipe is, and minimize the digging needed to repair the problem.
Water You Waiting For? If you notice signs of abnormal flow in your sewer or drain line (e.g., bits of brown chunks and toilet paper around a low-lying drain), call Allied Reddi-Rooter at 513-396-5300. We're available 24/7 to help get your urgent water issues resolved quickly and cheerfully. Call for a free quote, or Contact us to receive a free quote.  We always come highly recommended and have earned an A+ rating from the Better Business Bureau for our expert quality of service.