Thursday, March 23rd, 2023
How to size the best water heater for your home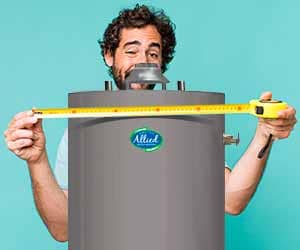 If you're ready to purchase a new water heater, you may be wondering which is best for your home. The answer depends on a few things, including the size of your household, the energy source you'll be using to heat the water, and how energy efficient the water heater you have in mind really is. 
It's no doubt a big decision, so to help you feel confident you're purchasing the best water heater for your home, we've put together a guide. Take a look below to learn which type of water heater you should purchase, and how to make sure it's the right size to keep those hot showers from running cold. 
Types of hot water heaters 
It's best to first understand the types of water heaters available today and how they differ for one another. 
Most homeowners are familiar with conventional hot water heaters. These feature a cylinder-shaped tank, typically found in the basement, that serves as a reservoir of hot water, ready for use. 
The tankless water heater (sometimes called "on-demand" water heaters) doesn't store water. Instead, it heats water when it's turned on. Many homeowners prefer this type of water heater because it saves space and can help conserve water. 
While heat pump water heaters are less common in Cincinnati area homes, they earn high marks for being extremely energy efficient. Like tankless water heaters, these do not use a tank, making them a good option if space in your home is at a premium. 
Solar water heaters. Looking for a green water heater to reduce your carbon footprint? If so, take a closer look at solar water heaters that use the sun's energy to power the tank and heat the water. 
Which type of water heater is best for my home? 
Deciding what water heater to purchase can be daunting, considering there are hundreds to choose from. To keep it simple, we'll discuss the pros and cons of the two most common types of waters heaters – conventional and tankless. 
Pros of conventional water heaters 
There are a few good reasons conventional water heaters are the most popular choice for Cincinnati areas homeowners. 
Affordability. These water heaters are often the least expensive, when compared to tankless water heaters, for example. The upfront costs are low, and since there are numerous makes and models to choose from, there's a good chance you can find one that's within (or even below) your budget. 
Easy to install. Conventional water heaters can be installed quickly by a qualified technician. This only adds to their affordability. 
Low maintenance. These water heaters are very easy to maintain and require only yearly maintenance by a technician. In the event that your conventional water heater needs repaired, parts can be found quickly, and repairs are usually easy to make. 
Pros of tankless water heaters 
Limitless hot water. One of the biggest benefits of a tankless water heater has to be that they offer an endless supply of hot water. This means never having to worry if there's enough hot water for your shower – even after you've done a million loads of laundry. 
Space saving. Since there is no tank to house, you'll have more space for storage. Tankless waters are especially ideal for those looking to refinish the basement and turn it into living space. 
Longer lifespan. In general, a tankless water heater lasts about 15 years longer than a conventional water heater. Most have a lifespan of about 20 years. 
What size water heater do I need?
If you choose a conventional water heater, you'll need to determine what size you'll need. As a general rule, a 40-gallon tank will be enough for a home with one to four people, a 50 gallon tank is best for 4 to 6 people, and anything higher is ideal for homes with 6 people or more. 
As you probably have guessed, the larger the hot water heater, the higher your energy costs will likely be, so choose wisely. You'll also want to make sure that the water heater you choose is compatible with your plumbing system, as moving to a larger tank in the future can get complicated. 
If you're thinking about replacing your water heater, the team at Allied Reddi-Rooter can help. We've been repairing and maintaining water heaters all across Cincinnati for decades and can help you decide which is best for your home.