Thursday, October 5th, 2017
Flushing: It's for Water Heaters, too!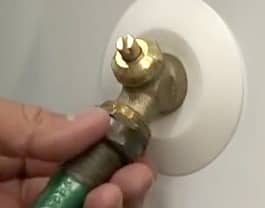 wFew things are better than a hot shower on a cold morning. As e head into the cooler months, a little water heater maintenance can go far to keep your hot water flowing. Note: The information below only applies to standard, tank-style water heaters. If you have a tankless water heater, contact a qualified professional for maintenance tips.
A mini-flush clears away the crud
Over time, sediment can accumulate in the bottom of the water heater tank. By performing a "mini-flush," you can remove standing sediment and improve the heater's efficiency. Mini-flushes are fairly easy and don't require you to shut down the water heater (which is needed for a full flush). Mini-flushes can be completed while the water heater is running.
NOTE: You will need a 3-5 gallon plastic bucket, perhaps a sturdy screwdriver, and potentially, good work gloves.
CAUTION: Water coming out of the water heater is HOT. Take care not to get burned.
1. Turn off the power to the water heater.
2. Locate the water heater drain valve (near the bottom of the tank).
3. Turn the drain valve counter-clockwise, either by hand or by using the screwdriver.
4. Fill the bucket
5. Close the valve.
6. Carefully, empty the bucket.
7. Turn the power back on.
If you notice a large amount of sediment in the bucket, a full-flush and a heater inspection may be needed, especially if the tank is over 10 years old.
One more thing…check the TPR valve
After completing the mini-flush, consider doing a quick inspection of the heater's temperature-and-pressure-relief (TPR) valve. The TPR valve is critical to the safe functioning of your water heater. The experts at heatinghelp.com suggest this approach for testing the valve:
"Lift up the lever for a few seconds, release it and let it snap back to place. If you hear a gurgling noise coming from the pipes, the water is escaping into the drain tube and the valve is working. If the sound does not occur, however, you may need to have a professional examine the valve and replace it if necessary."
Water You Waiting For? The professionals at Allied Reddi-Rooter are "reddi" to assist with all your hot water heater needs. From installing one you've purchased elsewhere or ordering/installing one for you, our guys will make sure your hot water is flowing and steamy. Call Ray today for a free quote or consultation. 513.396-5300 or Contact us. We always come highly recommended and have earned an A+ rating from the Better Business Bureau for our expert quality of service.