Friday, September 2nd, 2016
Ask a Cincinnati Plumber…Top Home Buyer Questions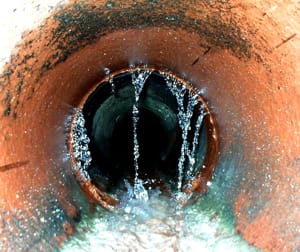 Which is more important – pipes or paint color?
Here's our top takeaway from those house-flipping shows on cable TV: Tearing out walls is easy; anyone can do it. Cosmetic repairs are a snap – easy to estimate, easy to execute. Infrastructure problems, on the other hand, create financial panic in a new homeowner. Finding out after the closing that the whole house piping needs to be replaced (or worse – there are tree roots in the sewer line, causing floods in the basement) is a problem that always creates tension and stress. Always.
According to American Water Resources (AWR), a provider of sewer line protection programs (a.k.a. plumbing insurance) for homeowners in 35 states, there are a few questions every home buyer should ask before signing on the dotted line. Seemingly, homeowners are unaware that they, not the local municipality or water utility, are responsible for the pipes running through home and yard (above and below ground). Even more surprising, few homeowners' insurance policies will cover piping repair costs that can run into the hundreds or thousands of dollars.
Ask These Questions Before You Buy:

1. Are your water service lines located near mature trees?
In the Greater Cincinnati Dayton areas, our most charming neighborhoods are characterized by mature trees. Below ground, however, invasive tree roots often grow alongside sewage lines and storm drains (a reliable source of water and nutrients). When tree roots invade the pipes, they can create cracks, clogs and blockages for homeowners.
2. How old are your pipes?
Typically, the sewer lines from your home to the street – which are the homeowner's responsibility – are at least as old as the home itself. In the USA, most water pipes were installed after World War II and (like our nation's bridges and roads) are due for replacement or repair. AWR notes that "According to a 2012 Water Infrastructure and Sustainability fact sheet by the Environmental Protection Agency (EPA), the average age of a broken water main in the U.S. is 47 years. Knowing the age of your pipes will help you to assess their need for repair."
3. What your pipes are made of?
Older pipes were typically made from clay, steel or tile – materials that are prone to crumble over time, especially in areas (such as Ohio) with cold winters and freezing/thawing activity in the ground. If the home you are eyeing was built before the 1980s, it is likely that the pipes are made of clay, and overdue for repair or replacement.
4. Do you have clay soil?
In our corner of Ohio, the soil is overwhelmingly heavy with clay. According to NACE International, a professional organization for the corrosion control industry, "sandy soils are among the least corrosive, and clay soils are among the most severely corrosive." That means, the soil can attack your pipes and corrode them away over the years. If you are considering a charming English Tudor built in the 1920's or 1930's, or a retro mid-century modern home, a sewer line video inspection of the main sewer line pipe may be well worth the nominal investment.
4. How frequently do toilet clogs happen; when was the last backup through the basement drain?
At our house, we are keenly aware that our upstairs toilet is sensitive to the "ultra" thick toilet paper. If we're going to have a clog, it's because the kids didn't realize they were using the premium TP and used too much. But, that could also be a symptom of a clog further down the line, between the house and street. Since we've never had sewage backups into the basement through the main drain, we're content to blame the kids. And use the inexpensive non-premium TP.
Water You Waiting For? An Homebuyer Sewer Video Inspection Can Be a Negotiating Point — Buying a home is an artful negotiation. An investment in a sewer video inspection is worth considering — the cost to repair or replace a sewer line can easily run $1500 or more, depending on whether excavation is needed. With an inspection, you can either achieve peace of mind about the condition of your pipes or you'll have a negotiating point (and a video) regarding upcoming necessary repairs.  Call or Contact Ray today for a free quote. (513) 396-5300.  We always come highly recommended and have earned an A+ rating from the Better Business Bureau for our expert quality of service.